Our Process
Helping you grow, protect, and transition your wealth
through clarity, confidence and structure.
Clarity
At Boyer Ramey Wealth Management Group, we utilize a detailed Investment Process to develop a deeper, more personal understanding of:
Fears
Objectives
Priorities
Financial Circumstances
Family Situation
By diving deeply into these essential questions, our partners who hold the CERTIFIED FINANCIAL PLANNER™ professional designation can help you develop a plan to focus on what you truly value most.
Confidence
Our primary objective is to help you work to maximize your portfolio's performance while working to minimize your risk exposure. Every investor is different, and our team will develop and implement a comprehensive wealth management plan tailored specifically to your unique needs.
Structure
We believe flexibility and follow up meetings are critical to the long-term success of any wealth management plan. Once we have designed and implemented your plan, we will schedule follow up meetings with our team to review your progress and discuss any changes in your life, priorities, or goals so we can make adjustments as necessary to help keep you on track.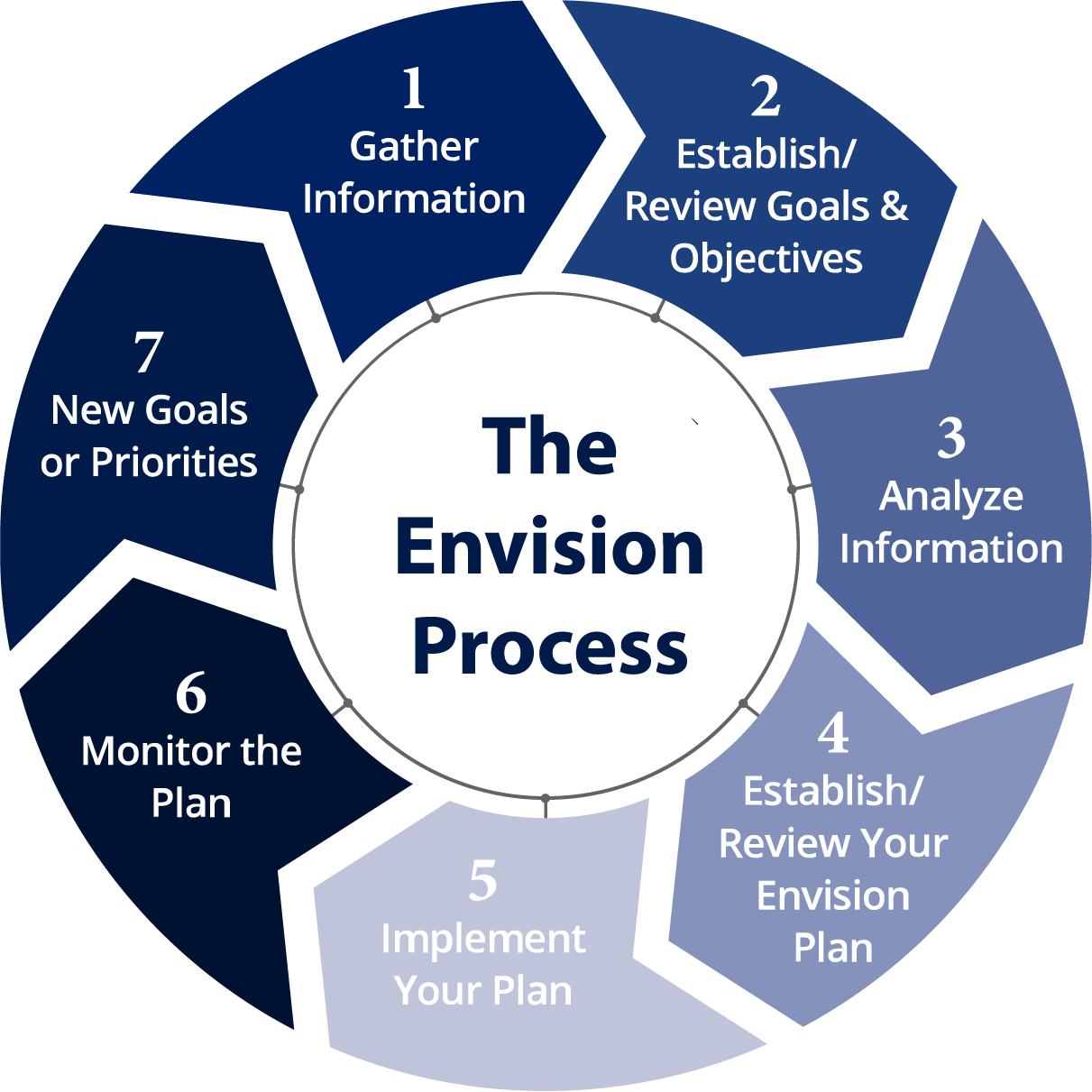 Envision® methodology: Based on accepted statistical methods, the Envision tool uses a simulation model to test your Ideal, Acceptable and Recommended Investment Plans. The simulation model uses assumptions about inflation, financial market returns and the relationships among these variables. These assumptions were derived from analysis of historical data. Using Monte Carlo simulation, the Envision tool simulates 1,000 different potential outcomes over a lifetime of investing varying historical risk, return, and correlation amongst the assets. Some of these scenarios will assume strong financial market returns, similar to the best periods of history for investors. Others will be similar to the worst periods in investing history. Most scenarios will fall somewhere in between. Elements of the Envision presentations and simulation results are under license from Wealthcare Capital Management LLC. © 2003-2021 Wealthcare Capital Management LLC. All Rights Reserved. Wealthcare Capital Management LLC is a separate entity and is not directly affiliated with Wells Fargo Advisors.
No Obligation Investment Review
Schedule a meeting with our team to review your existing investment strategy and discover if your plan truly aligns with your long-term goals.