Fraudsters and Scammers Pocket Nearly $6 Billion in 2021
According to the Federal Trade Commission (FTC), 2.8 million people lost $5.8 billion to fraud in 2021, a 70% increase in losses over 2020. Imposter scams topped the list of fraud types, surpassing others by a huge financial margin, followed by online shopping scams.1



Nearly 1 million consumers lost more than $2.3 billion to imposter scams, with a median loss of $1,000. Imposter scams happen when an individual posing as someone else — a friend, family member, or representative of a trusted company or organization — tries to convince a potential victim to hand over personal information or money. Examples include criminals who claim to be representatives from the IRS collecting taxes; distant relatives or friends in urgent need of cash; and fundraisers for charities. Often, fraudsters will ask the victim to forward a gift card or wire money. The FTC warns, "People who say you have to pay that way are always scammers."2
Online shopping was the second most costly fraud category, with nearly $400 million in losses.3 According to an AARP study, 29% of consumers age 50 and older have fallen victim to online shopping scams, which typically originate with a bogus website, mobile app, or social media advertisement. They often mimic actual retailers, offering brand-name goods at deep discounts that either never arrive or, when they do, are cheap knock-offs. Moreover, online shopping losses can be exacerbated through malware (malicious software) attacks that lead to identity theft. The AARP said warning signs of online shopping fraud include bargain-basement prices, unprofessional and error-laden websites, limited or suspicious contact information, and web addresses that include extra characters or don't end with .com or .net.4
---
Beware of Social Media Scammers
Social media was more profitable to scammers in 2021 than any other method. People ages 18 to 39 were more than twice as likely as older adults to fall victim to social media scams.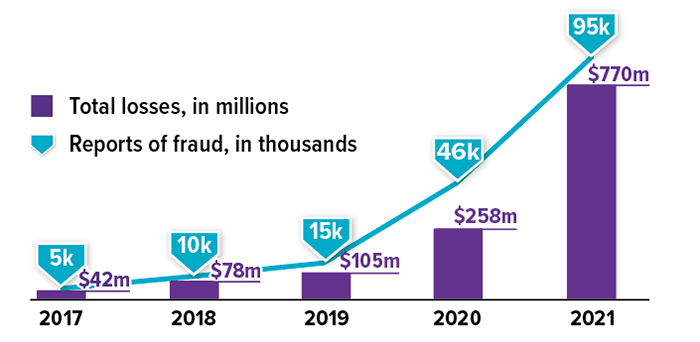 Source: Federal Trade Commission, 2022
---
The holiday season is prime time for scammers and identity thieves. With the holidays just around the corner, now is the ideal time to review common frauds and prevention tips. For more information, visit consumer.gov, consumerfinance.gov, and aarp.org.